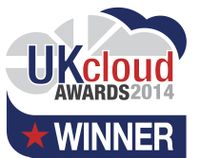 British cloud provider, Memset last night continued to raise their dominance of the UK cloud market, scooping two awards at the inaugural UK Cloud Awards organized by Cloud Pro magazine.
First up Memset secured 'Storage Product of the Year' for Memstore, their new cloud storage solution, based on open source software that delivers a flexible, scalable and safe way for customers to store their data in the cloud on a pay-as-you-use basis. Due to Memset's novel approaches they have been able to undercut the price of market leader, Amazon's Simple Storage Service (S3).
Memstore has also been accredited by the Pan Government Accreditor, securing IL2 accreditation 1st June 2013, demonstrating that their innovative solution is also compatible with secure government IT data.
Memset's MD, Kate Craig-Wood was also highly honoured at the awards and named 'Cloud Personality of the Year'. 
Maxwell Cooter, editor of Cloud Pro said: "The Cloud Personality of the Year award was given to Memset chief executive Kate Craig-Wood for her evangelical work in promoting cloud services and her work with government bodies in ensuring cloud remains in the forefront of political thinking. It was a good night for Memset, the company also won best Cloud Storage Product for its Memstore offering."
The UK Cloud Awards are jointly organised by the Cloud Industry Forum (CIF), Cloud Pro and techUK, the UK's organisation for technology companies. Alex Hilton, CIF's CEO, said: "The variety of high calibre entries we received was exceptional, in this first year of the UK Cloud Awards.  The quality of the entries and winners show the depth and breadth of the cloud innovation that tangibly exist in live working services today. Cloud has clearly matured and we look forward to seeing further development over the year for an even stronger event in 2015."