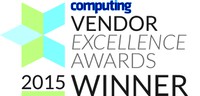 Memset, an award-winning SME provider of hosting services to enterprise and UK public sector via the G-Cloud framework, have today announced that their cloud storage product, Memstore has won Computing's Enterprise Cloud Storage Award at an award ceremony held last Friday 10th July 2015. 
Computing's inaugural Vendor Excellence Awards celebrate the achievements of technology vendors and service providers who are leading the field of enterprise IT with innovative products, services and solutions that underpin and drive success in both business and public sector organisations.
The awards recognise vendors who help their customers deliver competitive advantage, automate business processes, save on costs and protect their organisation and achieve compliance.
Memstore, Memset's cloud storage solution uses OSS, OpenStack, combined with in-house software to deliver a flexible, scalable and safe way for customers to store their data in the cloud on a pay-as-you-use basis.
This innovative cloud storage solution, developed by a small team of developers at Memset punches above its weight it terms of functionality and features and offers British customers the option to keep their data safely in the UK within a wholly owned and headquartered British business.
Memstore also achieved OFFICIAL/IL2 accreditation by CESG, demonstrating that our innovative solution is compatible with secure government IT data and is currently available via the Digital Marketplace.
Speaking on the award, MD Kate Craig-Wood said: "We are very proud that Memstore has been recognised by Computing magazine as a solution that can compete shoulder-to-shoulder with similar products from US heavyweights, but comes with the additional advantage of enabling British customers to keep their data in Britain."
"An impressive SME offering in a space crowded by big players. A great product and offer, with an excellent approach to challenging vendor lock-in," said Peter Gothard, Judging Panel Chair, Computing Vendor Excellence Awards.
-ends-