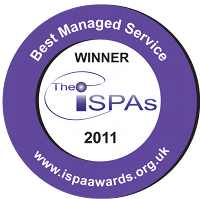 Memset, award-winning provider of managed hosting and cloud computing Infrastructure-as-a-Service (IaaS) solutions for businesses last night scooped the award for 'Best Managed Service' at the 13th annual ISPA awards.
The awards, which recognise excellence within the ISP industry introduced a number of new categories this year, one of which was for the company that provides the Best Managed Service.
The Managed Service Award was open to communications service providers that are engaged in managing networks or services on behalf of operators or service providers.
The judges who saw Memset as stand out winners said: "In this category's inaugural year the judges decided that Memset were worthy winners for their excellence in reliability and for being continually on top of their game."
Kate Craig-Wood, MD of Memset who attended the event and collected the award on behalf of Memset said: "We're delighted to win the award for Best Managed Service. Thanks to our approach of using in-house software development with open source technology and clustered commodity hardware we are able to deliver enterprise-quality managed services at a fraction of the usual costs. Winning this award is a welcome, impartial confirmation of the quality, value-for-money and reliability of our services from one of the most respected bodies in the industry."
Memset was founded in 2002 and currently hosts one of the largest virtual machine deployments in Britain.  As Memset own their own platform based on Xen, they have a unique advantage in not paying license fees, hence Memset is both Britain's cheapest provider, and cheaper than the leading global provider, Amazon EC2.
For details of the winners see below and for more information and photos go to www.ispaawards.org.uk.