Guildford, Surrey – 5th October 2010 – Memset, the UK's leading virtual machine cloud provider, has been awarded the PC Pro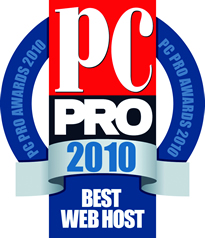 Best Web Host for a fantastic fifth time at this year's PC Pro Reliability and Service Awards held on Wednesday last week.
These awards are the most comprehensive guide to customer support and product reliability in the UK and Europe and are compiled from the UK's largest independent survey of IT customer satisfaction.
In each category, PC Pro asks its readers to rate the reliability of the products they have bought, customer support, and how satisfied they are – in particular, if they would buy from that company again. All the feedback is then collated to produce a numeric rating, and the company with the highest rating wins.
On collecting the award at the ceremony, Kate Craig-Wood, Founder and MD of Memset, said: "We are delighted to have won this award for an amazing fifth time, it's fantastic. We are so grateful to all of our customers for their continued support, especially those who took the time to vote for us."
"Our continued success in the PC Pro awards is down to the Memset crew, for their unwavering dedication and hard work over the last 5+ years,"concluded Craig-Wood.
PC Pro said: "Memset has undoubted pedigree when it comes to web hosting: this is the company's fifth successive PC Pro award. The UK-based host provides top-quality service to match its unmatched reliability, according to our survey."
-ends-