Miniserver VM® VPS Packages - Our Virtual Server Solution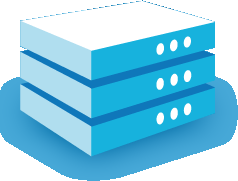 Memset® first launched their Miniserver VM® Virtual Servers (also called VPS or VDS) in 2002, and have remained leaders in the field since.
Each virtual server comes with dedicated resources (RAM, CPU & Disk) and is operationally indistinguishable from a normal dedicated server. The host servers are powerful Dell PowerEdge R310 and R320 servers with a Quad Core Xeon processor and RAID1 disks. We typically put around 15 VMs on each server.
Easy multiple-site Web hosting with cPanel/WHM
If you are looking for a comprehensive, easy-to-use way to host one or many Web sites with all the trimmings, but without needing systems administration expertise, then our VPS solution - Miniserver VM® Virtual Server with cPanel/WHM with Fantastico is exactly what you need, and only costs an extra $12.50/mo.
In combination cPanel/WHM takes away the need for any in-depth sys admin skills and makes hosting one or multiple domains, sites, email & databases easy. It is also ideal for Reseller Web hosting - you can use it to give each of your Web hosting clients their own control panel. Here are some of the features:
Unlimited Web sites. *
PHP, CGI, Perl.
MySQL databases. *
Frontpage extensions.
Comprehensive master & client control panel. Demos: Web Host Manager, cPanel.
Email with Web mail interface.
Spam filtering. *
Web logging.
Free Magento installer tool.
* Package required will be dependent on resource requirements due to volume/size of traffic. cPanel is available for all ®Miniserver VMs with at least 1 GB of RAM.
Operating systems
We offer Linux-based operating systems including Debian (our recommendation), Ubuntu, and CentOS, at no extra charge.


We also offer a choice of Windows 2008 Server R2 Standard Edition (minimum 1 GB RAM) and Windows 2012 Server (minimum 2 GB RAM) for our ®Minserver VMs.
We are currently offering an incredible Windows Hosting deal.
Technical support
The prices shown are for self-managed virtual machines. We will look after the host hardware of course, and will provide basic monitoring, but if you need assistance with managing your Miniserver VM® then you should consider our Memset®-managed SLA.
Note: Prices exclude VAT.
What is a Miniserver VM® Virtual Server?
Using Miniserver VM® virtualisation allows us to divide a single powerful server into many smaller Virtual Servers (sometimes called 'Virtual Private Servers', or 'VPS') each with its own dedicated resources. Although several Miniserver VM® Virtual Servers may exist on one physical server, they are as secure as if they were separate machines on the same network, and the resources are partitioned in such a way that one Virtual Machine's activities cannot negatively affect the others.
Why use Miniserver VM® Virtual Servers?
As most ISPs and Web professionals know, web site or email hosting is in fact a very low intensity activity for a server - that is why many cheap web hosting providers are able to squeeze thousands of sites onto one physical machine. However, for a site to perform well, it does needs a powerful machine, but it only needs the resources in short bursts.
That is where a Miniserver VM® Virtual Server comes into its own. You get all the benefits of a powerful servers resources when you need them, but cut the cost by sharing those resources when you are not using them (which is most of the time). As well as those powerful resources, the technology allows us to give you other facilities such as Raid Disk space at no additional cost and Solid State Disks (SSD) for a small extra charge.
Also, unlike other "virtual private server" / VPS or "virtual dedicated server" / VDS technologies such as Virtuozzo, vserver or vmware, Miniserver VM® technology gives true hardware-level para-virtualisation so you are not sharing resources with other users.
For more information on why Miniserver VM® technology is superior to that of the other main-stream products such as Virtuozzo, have a look at your Miniserver VM® virtualization technology page.
Miniserver VM® Snapshots
Our snapshot feature allows any customer with a Miniserver and Memstore™ to take a complete copy of their server and store it on their Memstore™ account. This is particularly useful for disaster recovery and for storing multiple copies of your server. You can create additional servers from an existing snapshot image when you order a per-hour Miniserver. In the future this "order using snapshot" feature will be available for monthly Miniservers as well.
Memstore™
One of the main advantages of having all of your hosting with Memset is that data transferred between your Memset servers and Memstore is free-of-charge and sent internally over a gigabit connection within our datacentre.