Server Storage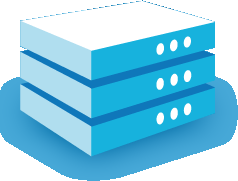 For users with high-performance requirements (eg. large databases) where a lot of CPU and RAM is needed as well as the data, we have the Dell R720 XD with 12 drive bays, twin hex-core processors, and a large RAM capacity.
CPU cores
Processor(s)
Minimum RAM
Disk type
Disk bays
Minimum hot spares
Minimum storage (RAID 6)
Maximum storage (RAID 6)
Inclusive transfer bandwidth
Minimum term
Setup charge
Monthly rental
Customise
Dell R720 XD
6
2
32 GB
3.5" SATA
12
1
18 TB
36 TB
4,000 GB
1 month
$0.00
$819.00
BUY NOW
Price comparison
Thanks to our economies of scale and large amount of hardware we are able to absorb much of the capital cost of these solutions, amortising it into the monthly fee with no tie-in for you.
RAID level & resilience
Disks do fail, and in our experience there is often more than one failure in a server in quick succession. Therefore, we strongly recommend that our customers choose RAID 6. This means that any two disks can fail at the same time and there is no data loss or interruption to service. In the case of an R720 XD with twelve 2 TB disks you in-effect lose two disks-worth storage capacity. One disk is used as a hot spare, so the available storage is 18 TB.
Note: Prices exclude VAT.